Committed to Our Legacy: The Campaign for Bishop McDevitt High School is a comprehensive fundraising and engagement initiative that combines operational needs and capital needs under one initiative. This Campaign will strengthen our efforts to invest in our academic programs moving from an industrial model to a 21st Century educational framework, to provide additional financial aid to needy students and to service our debt and preserve and maintain our facilities.
The greatest legacy we can leave for future Crusaders is a legacy of character and faith. We recognize that donors have specific interests and we wish to match that interest with the needs of the School. Thus we have identified three important Campaign Priorities which we hope will inspire your participation and generosity in leaving the greatest legacy.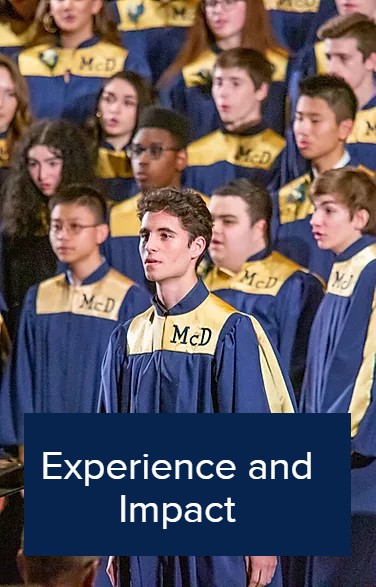 The McDevitt Fund is seen in every aspect of our campus - directly supporting students and faculty, athletics and performing arts, the Library and Art Room and beyond.
It allows for us to continue our 21st Century educational model - comprising customized learning, computer science enhancement and global learning initiatives.


Your gift does more than keep the lights on, it allows for a transformative education in mind, body and spirit. It allows for every Crusader to create their own legacy.
​


We are committed to our mission of serving students of a diverse backgrounds regardless of their financial capacity.

We are seeking to establish lasting and available resources for financial aid in the form of endowed scholarships, the Little Flower Scholarship Fund and PA Tax Credit Program.

Your support of endowed scholarships ensures Bishop McDevitt's can continue our commitment to meet the demonstrated financial needs of students while a gift to the Little Flower scholarship or PA Tax Credit Program bridges the gap between financial need and available resources.


Our legacy was born in a small Catholic school on North St in the city of Harrisburg. In our 100 years, we have transformed into a beautiful 86-acre campus in the suburbs, serving students from multiple counties.

Your support will service our debt, fund continued improvements on our campus and within our infrastructure, from that energize student life to those that take our education to the next level.

A gift to our capital needs is paramount in continuing the legacy.