Basketball - Girls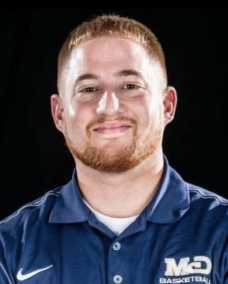 Joel Falcone, Head Girls Basketball Coach
Coach Falcone is entering his sixth year at Bishop McDevitt High School. The past five Seasons were on the boys sidelines. This year Coach will shift over to the Girls side as the Head Coach. He has eight years of Coaching experience.
In addition to coaching at Bishop McDevitt; Coach Falcone started his coaching career as a varsity assistant at Steel-High for two seasons. Coach Falcone was the head freshman Coach in 2016 leading the Crusaders to a (22-0) record. Coach Falcone has been to three District 3 4A Championship Appearances; with a Championship Win in '18-19; As well as a keystone league championship in '19-20.
Coach Falcone has worked at the Syracuse "Jim Boeheim" Camp for two years. He has also been to Coaching Clinics at West Virginia (Bob Huggins) & LaSalle (Ashley Howard)
Coach Falcone is a 2008 McD Graduate, who also played Basketball for the Crusaders in 2004-07. Coach Falcone's three older brothers and Dad are also graduates of Bishop McDevitt.
<!- box:side-1 -->
Athletic Director
Head Coaches
Teams
Athletic Schedules
Academic Eligibility
Forms
Sports Medicine
Support Our Teams
Spring Sports Guidelines (pdf)
Athletic Gear
1995 State Football Championship Update