The 2021-2022 Blue & Gold Gala: One McD is tomorrow, Saturday, November 20th! The program will begin at 6:00 PM and we invite you to tune in
here
.
You are invited to participate in the virtual auction which opens tonight at 5:30 PM and closes Sunday, November 21 at 5:30 PM! We encourage you to browse the items and to start bidding on some amazing packages and items.
Click
here
for the auction registration.
---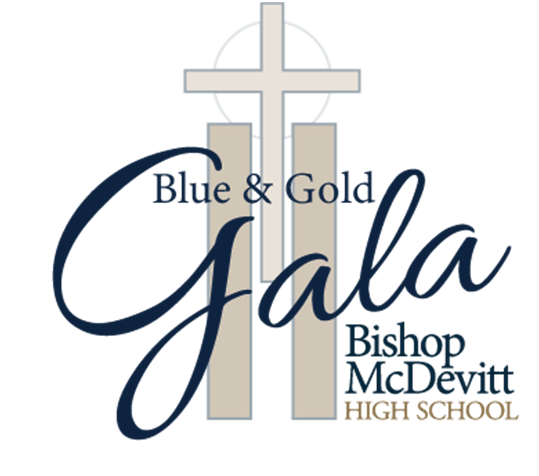 Blue & Gold Gala: One McD
Blue & Gold Gala: One McD
Be sure to join us for the 2021-2022 Blue & Gold Gala: One McD on Saturday, November 20, 2021! This virtual, interactive event led by our Blue & Gold Gala Exclusive Sponsor, Robert '65 and Linda Sansone '66 Pugliese, will include a program, auction, and dinner catered by Rettew's Catering. Dinner will be served to the Home Hosts. As we continue to prioritize the health and safety of our community, we thank you for your commitment to our One Mcd and we look forward to having you join us virtually and celebrate our One McD community during this fantastic evening!
We continue to see an increase in financial need among our Bishop McDevitt families. Our goal during the silent auction and scholarship drive is to raise critical funds for operational support and the Little Flower Scholarship Fund. We hope that this year's virtual gala will inspire support for our Bishop McDevitt Crusaders.
Home Hosts are encouraged to invite their table home for an intimate dinner party while viewing the gala program live-stream. Gala dinners for the entire table will be delivered to the Home Hosts' home along with a blue and gold One McD centerpiece.
2021-2022 sponsorships and Home Host Packages are available on the gala website.
---
5:30-7:00 Meals will be delivered by Rettew's Catering via a contactless delivery and following all Covid-19 protocols.
The virtual program will begin at 6:00 PM.
For Home Hosts, your meals and the meals for your registered guests will be delivered to the address listed as your Home Host address.
Not going to be in town for the Blue & Gold Gala: One McD? Not planning on being a Home Host? Want to still support Bishop McDevitt High School and our students? You can by browsing our selection of silent auction items! On Friday, November 19th at 5:30 PM a variety of our silent auction packages and items will be live for auction and we encourage our entire McD community to browse and bid on items. Keep an out on social media for previews of what items will be available!
<!- sidebar-file='/sites/www.bishopmcdevitt.org/web/mcd/Development/Special Events/Blue & Gold Gala: One McD/_zumu_sidebar.html' --> <!- box:side-1 -->
Development
Development Home
Priorities
Donate Now
PA Tax Credit Programs
Giving
Planned Giving
Endowments
Scholarships
Special Events